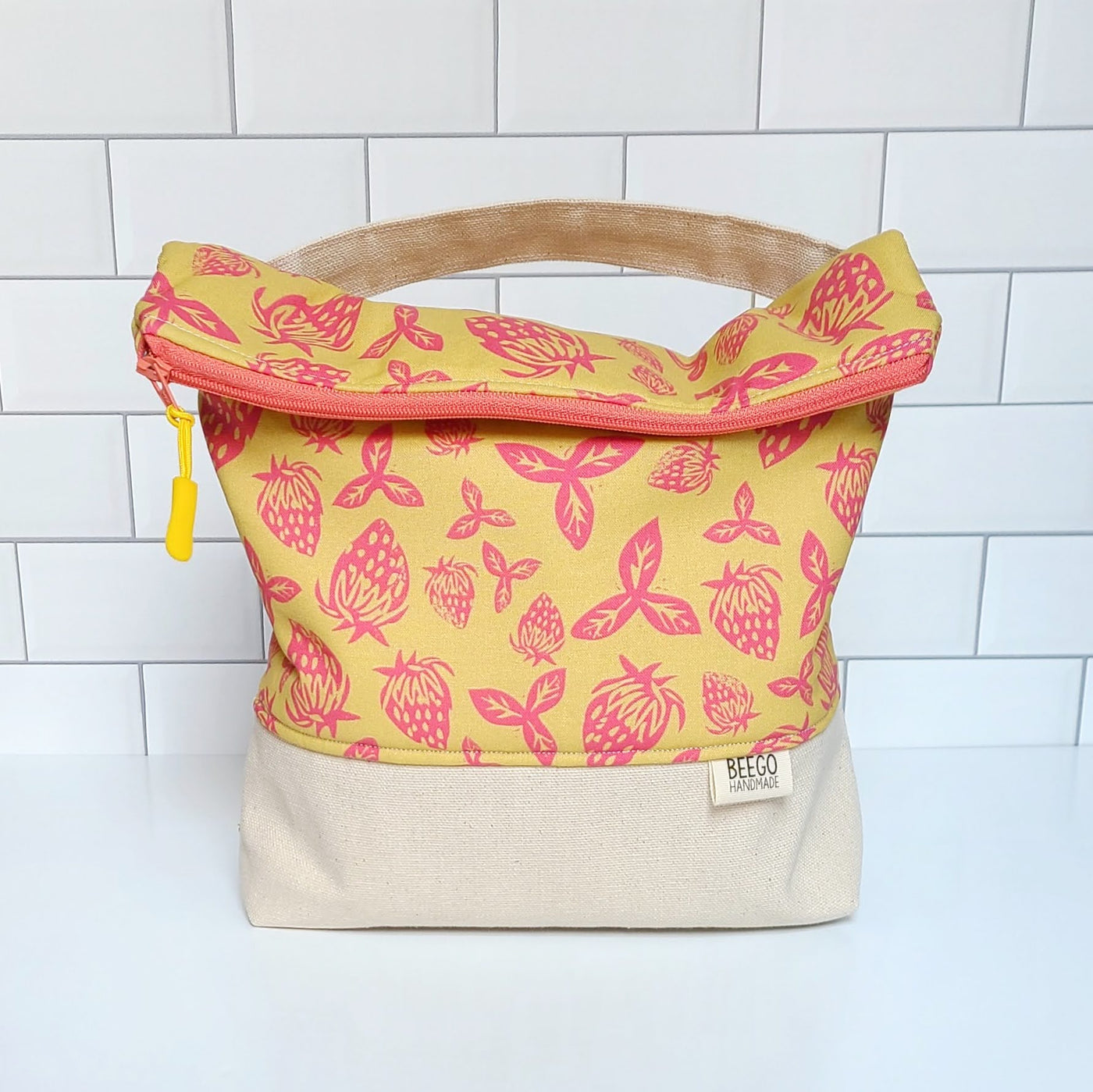 Strawberry Lemonade Insulated Washable Lunch Bag
$56.00 USD
Our versatile, insulated lunch bag is lined with food-safe waterproof material, can be machine washed and dried, and folds down flat when not in use! The exterior features a zip top, durable unbleached cotton canvas for the base, and a vibrant cotton print on top. The top fourth of the bag folds over and snaps, but if you need some extra room just skip the snap and fill it to the brim! At the top is a strong canvas handle for easy transport. In between the exterior cotton layer and the waterproof lining is an insulating material that will work with ice packs to keep food nice and cold as you are out and about!

These bags are durable and built to last. We use high-quality materials and triple-reinforce the stitching at the handle and at the base to make sure it can withstand the wear and tear of everyday use.

*PLEASE NOTE* This item is handmade – the item in the photo is a sample. Fabric will be as pictured (pattern placement will vary) but zipper and zipper pull color may vary.
Outer fabric: 100% quilting cotton and 100% unbleached cotton canvas
Lining: Waterproof, food-safe ProCare
Insulation: 93.75% polyester, 6.25% metallized polyester (Insul-Bright)
Care: Machine wash cold, tumble dry low or medium, preferably on gentle cycles. Do not expose waterproof lining to high heat (iron or food).

Base: 8 x 4.75 inches
Folded/snapped height: 9 inches
Unfolded/unsnapped height: 11.5 inches
Width at top: 9.5 inches
Our lunch bag widens slightly from bottom to top. The opening and bag are large enough to accommodate a round 4-cup Pyrex container which nests nicely in the base, leaving enough room on top to add even more snacks!