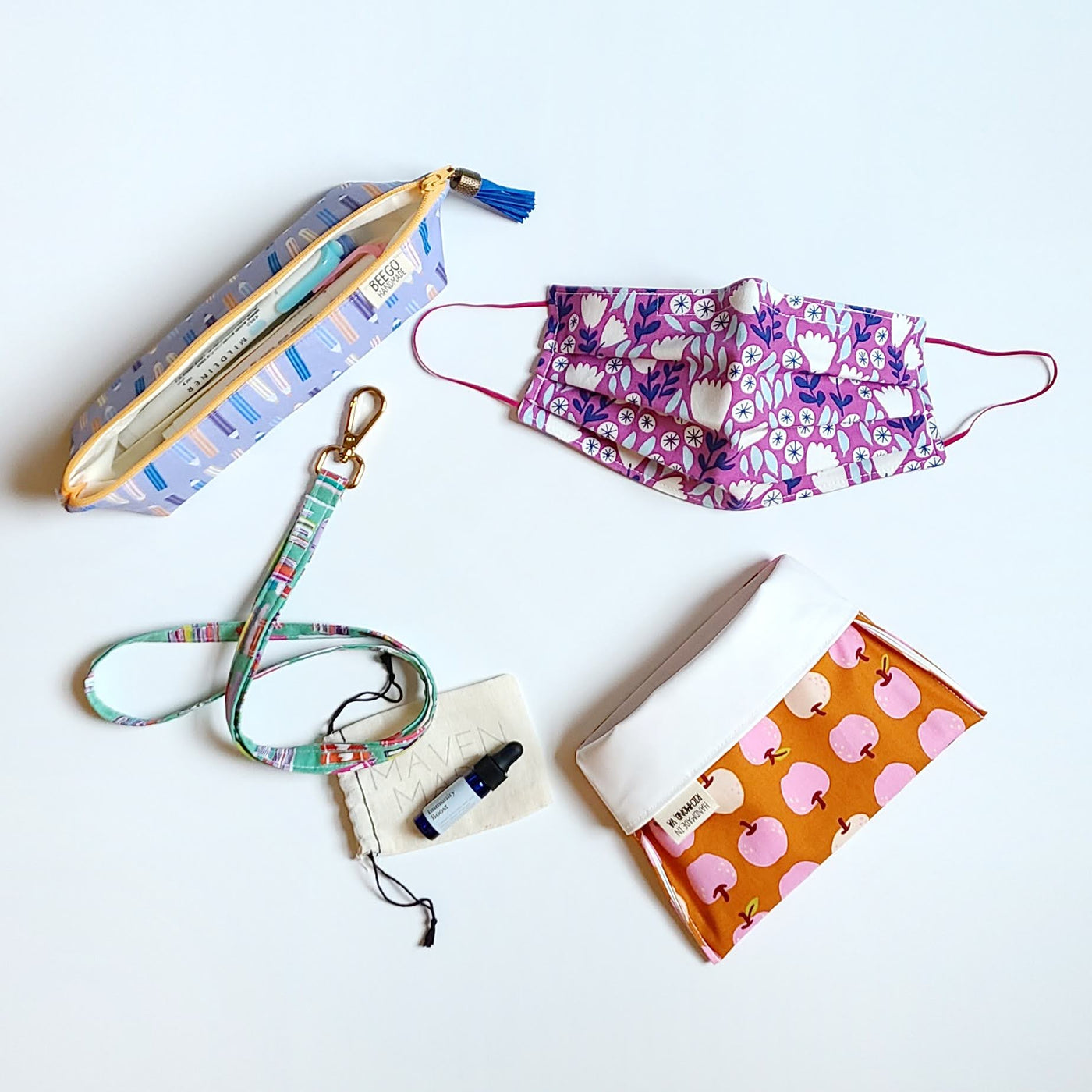 Back to School Box
$49.50 USD
The Back to School Box was our August 2021 Mystery Box BUT I made a few extra just in case anyone was regretting not springing for the box when it was available for initial ordering! This box is full of items help bring some joy and levity to a tough back to school season.
This box contains:
(1) Flat Bottom Pencil Pouch
(1) Lanyard with metal clip - fabric may vary from photo (it will either be teal books or cream books)
(1) Snack Bag
(1) Reusable Cotton Face Mask (3 ply) - print may vary (it will either be the Rosalia print as pictured or the Chasing Rainbows print)
(1) Immunity Boost dropper from Maven Made
The contents of this box are valued at $65, so it's a great deal and makes a wonderful pre-assembled gift for any teacher or older student in your life. Each box comes packed in a cardboard tuck box with info/care card mounted inside. 
Pencil Pouch: 9 inch zipper, base of pouch measures 7x2.5in, 2.5in tall
Lanyard: 18in long including clasp
Snack Bag: 4.75x7in
Face Mask: 8.25in wide, 5.25in nose to chin


Pencil Pouch: 100% cotton outer and lining - *Remove tassel before washing!* machine wash cold, tumble dry low
Lanyard: 100% cotton and metal clasp, Machine wash cold in delicates bag only, air dry
Snack Bag: 100% cotton outer, food-safe waterproof lining - machine wash cold, tumble dry low
Face Mask: 100% cotton, latex-free elastic, copper nose wire. *Remove nose wire before washing!* Machine wash warm/hot, tumble dry low or medium.