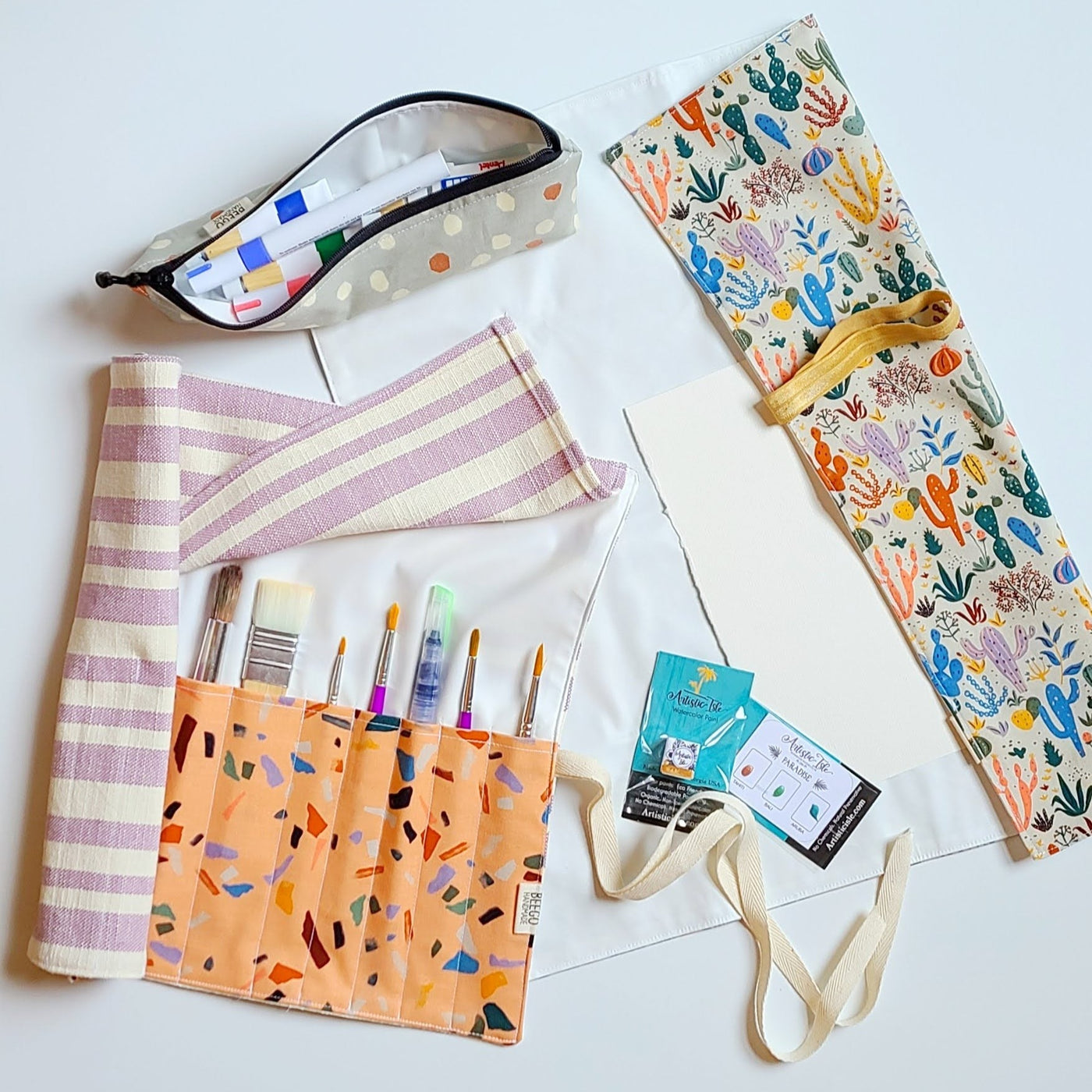 The Artist Inside Box
$55.80 USD $74.40 USD
This box was our January Mystery Box and is themed "The Artist Inside." It's full of items to fuel and support any kind of creative endeavor. 
Each box contains:
(1) Waterproof Work Mat - 17.25x17.25 inches, cotton on one side, waterproof material on the other, with an elastic band for easy folding and transport. Perfect for painting on the go, keeping a desk or counter neat, or doing any kind of messy project that you want to keep contained. Wipe clean or machine wash cold/tumble dry low in delicates bag. 

(1) Flat-Bottom Bits n' Bobs Case - 10x3.25x1.5 inches - waterproof lining and cotton exterior. Great for carrying or organizing smaller tools/items.

(1) Tool Roll - 17x12.25 (unrolled) - each roll has 14 slots and is wonderful for holding brushes, sculpting tools, makeup brushes, pens, pencils, markers, whatever you like! The interior backing fabric (the white material) is waterproof, so if you put tools back in while wet you don't have to worry about the moisture soaking through to the outside! *Items shown in tool roll are photo props are are not included in the box!*
(1) Set of handmade watercolor samples from Artistic Isle
These would make a fantastic gift for anyone who loves being creative!
The contents of the box are valued well over the price you pay - this month's items are valued at over $90! 
Each month, we include the work of another small maker that coordinates with the theme for the month! Yippee!  - This month's featured maker is Artistic Isle.