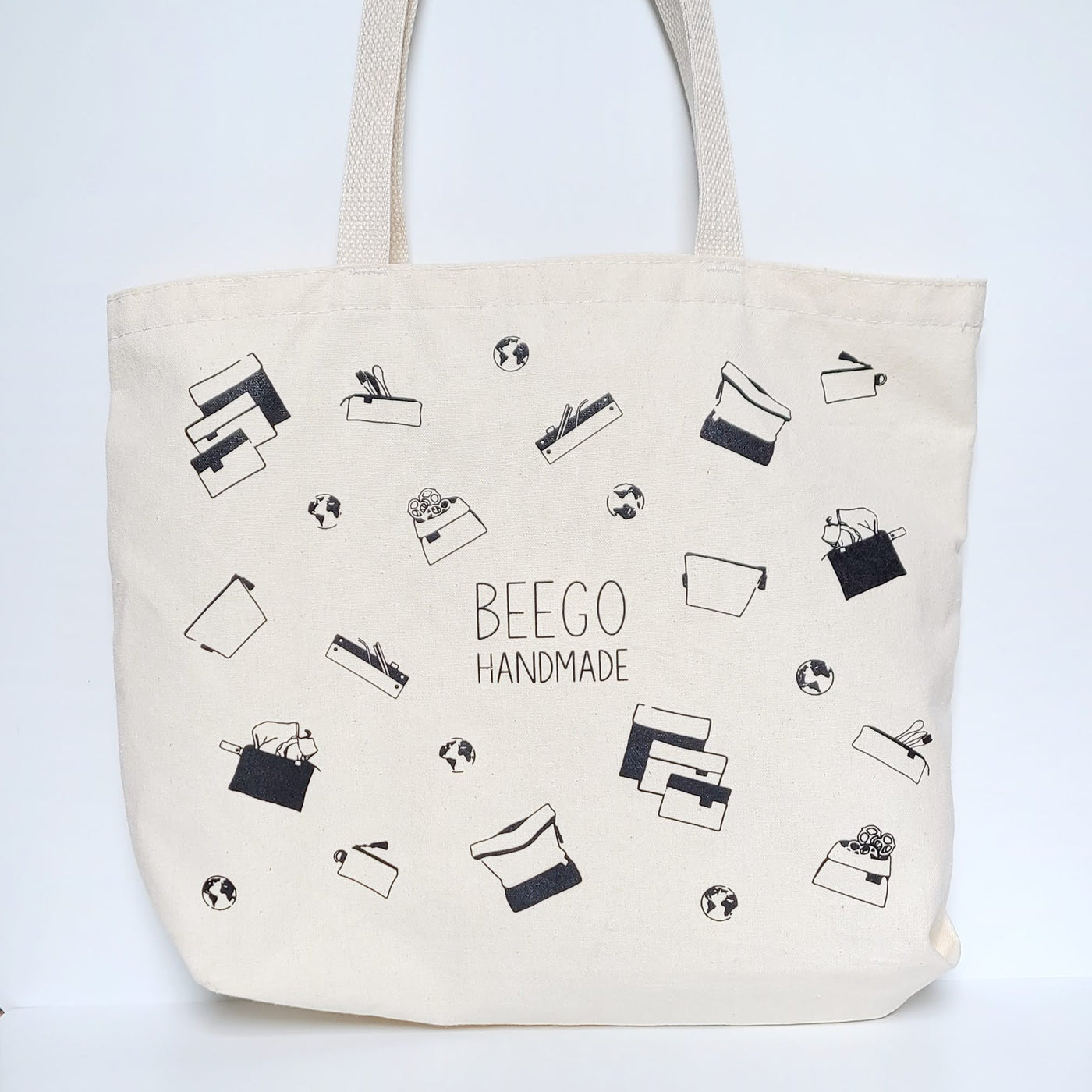 Beego Tote Bag
$18.95 USD
Celebrate your love for all things Beego while enjoying the function of this awesome tote! The versatile size is perfect for grocery shopping, using as a purse, packing for a road trip, or toting your laptop and books. It fits a TON of stuff inside. It is so nice and big with soft straps that are long enough to comfortably carry the bag on your shoulder. 
The beautiful art on this bag was designed for us by the wonderful Figure Form
Made by Enviro-tote from recycled cotton canvas. 
This fabric is made from a 65% blend of cotton yarn produced from the excess fabric of newly made clothing, and 35% Bottle Bag material (made from 100% recycled PET bottles). This unique manufacturing process saves land, energy, and water. 
According to the Council for Textile Recycling, 25,000 tons of new textile fiber is disposed of by North American spinning mills, weavers and fabric manufacturers each year. Technology now exists to make new cotton yarn from gin waste, commercial fabric trimmings and mills ends. Recycled cotton is recovered cotton that would be wasted during the spinning, weaving and cutting processes. Up to 40% of cotton grown is wasted between the harvest and the manufacture of garments. In the past, this waste went directly into landfills.
18"w x 14.5"h x 3"g with 25" Spun Poly handles
Everything is amazing!
Beego is one of my favorite go-to shops for gifts, cards, and quality masks. I've made quite a few purchases from them, and I've never been disappointed. The quality is fantastic, shipping is speedy, and supporting small businesses is just the best. Thank you for being amazing, Beego! ❤️
Everything is amazing!
Beego is one of my favorite go-to shops for gifts, cards, and quality masks. I've made quite a few purchases from them, and I've never been disappointed. The quality is fantastic, shipping is speedy, and supporting small businesses is just the best. Thank you for being amazing, Beego! ❤️